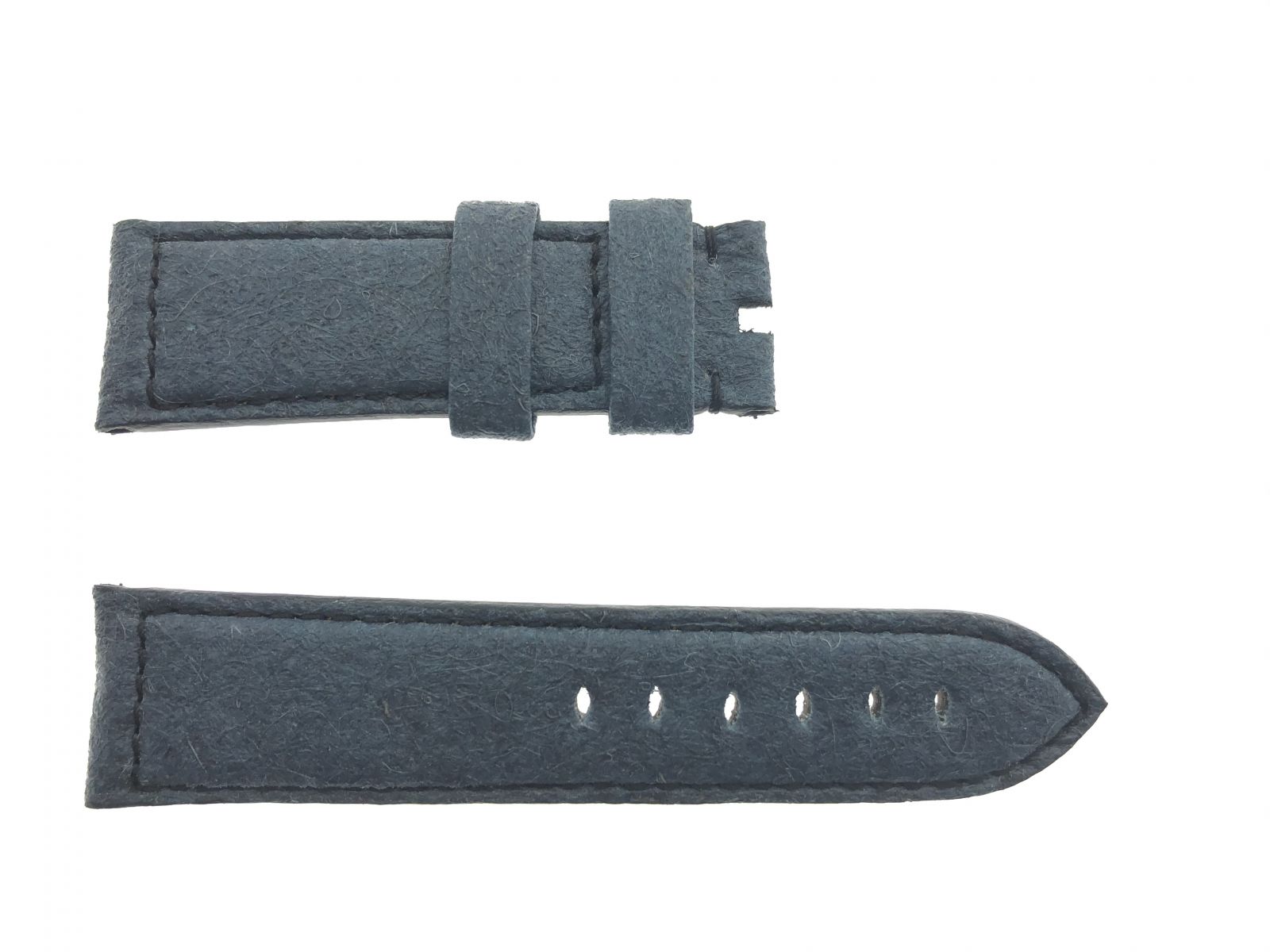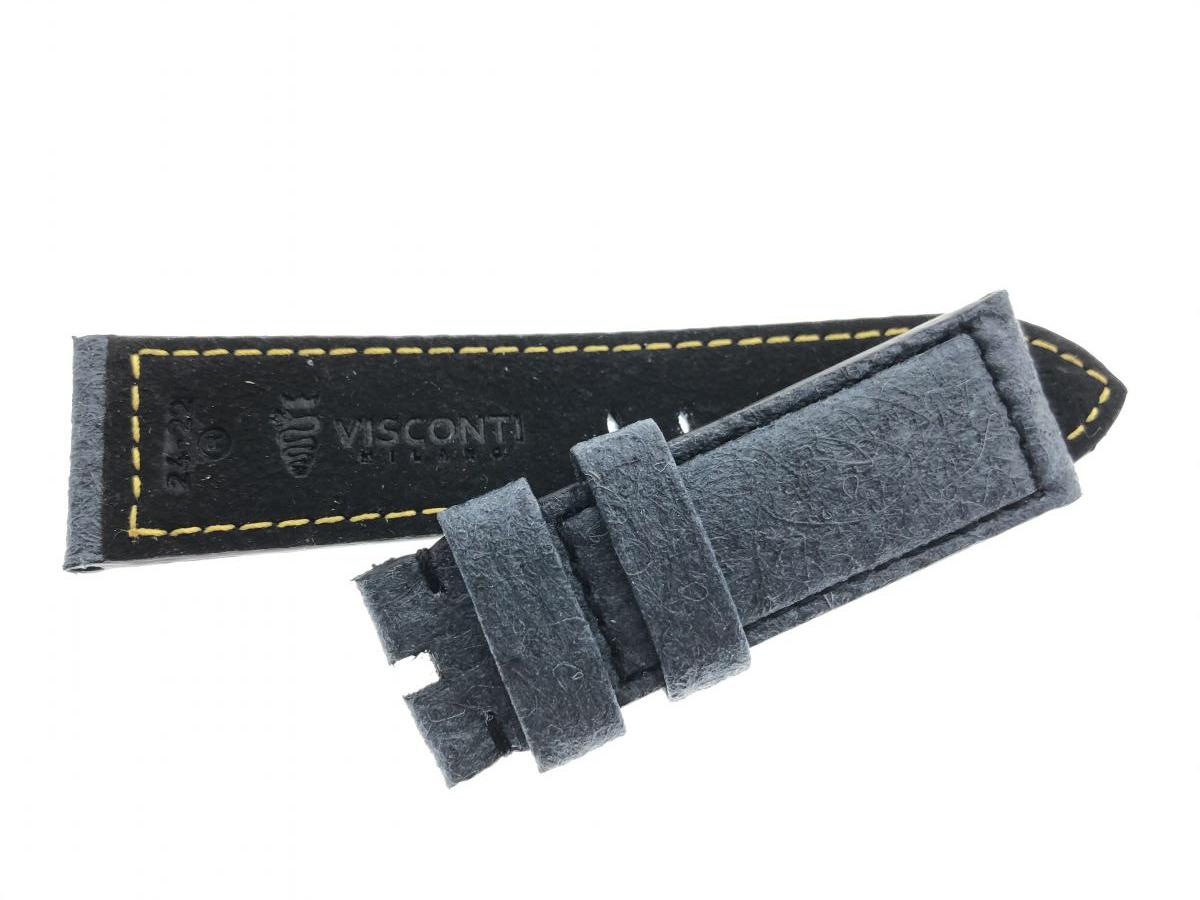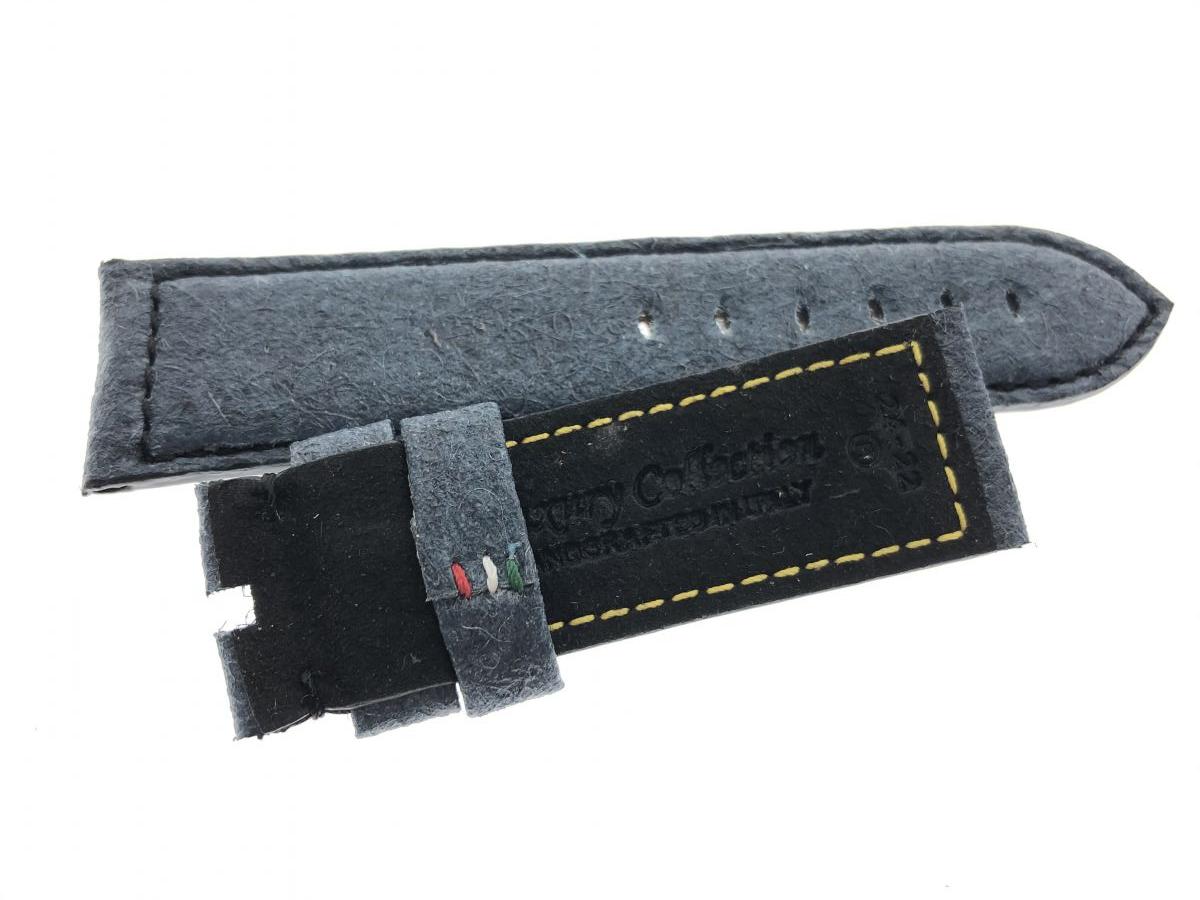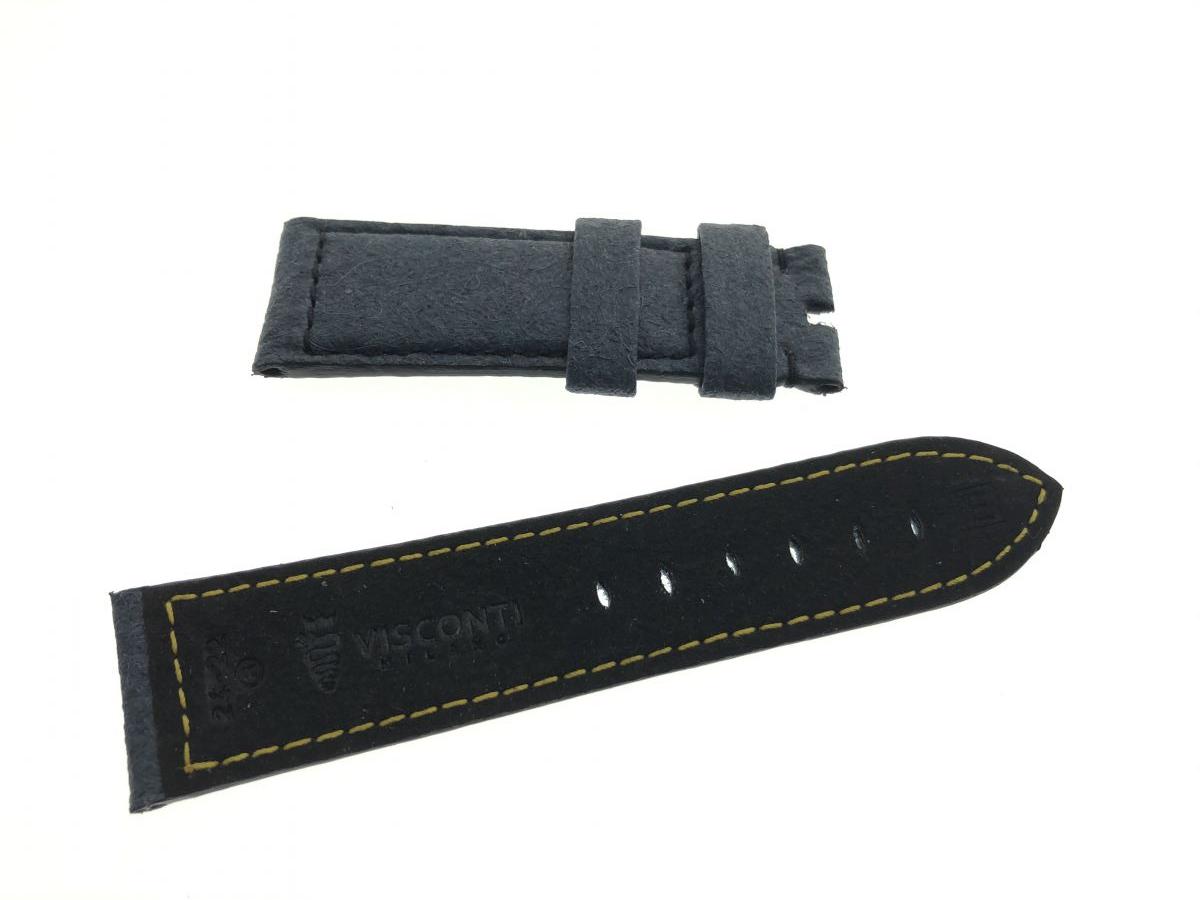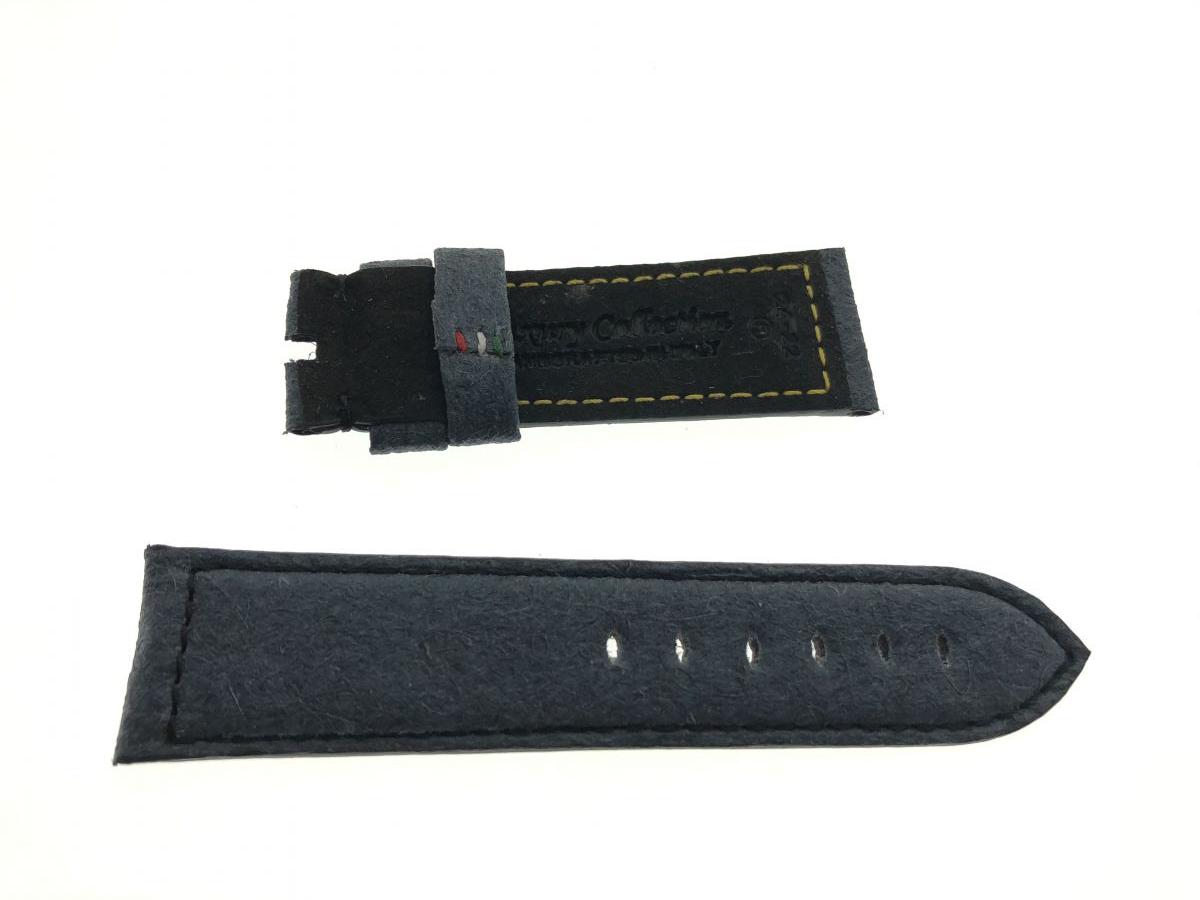 100% handcrafted in Italy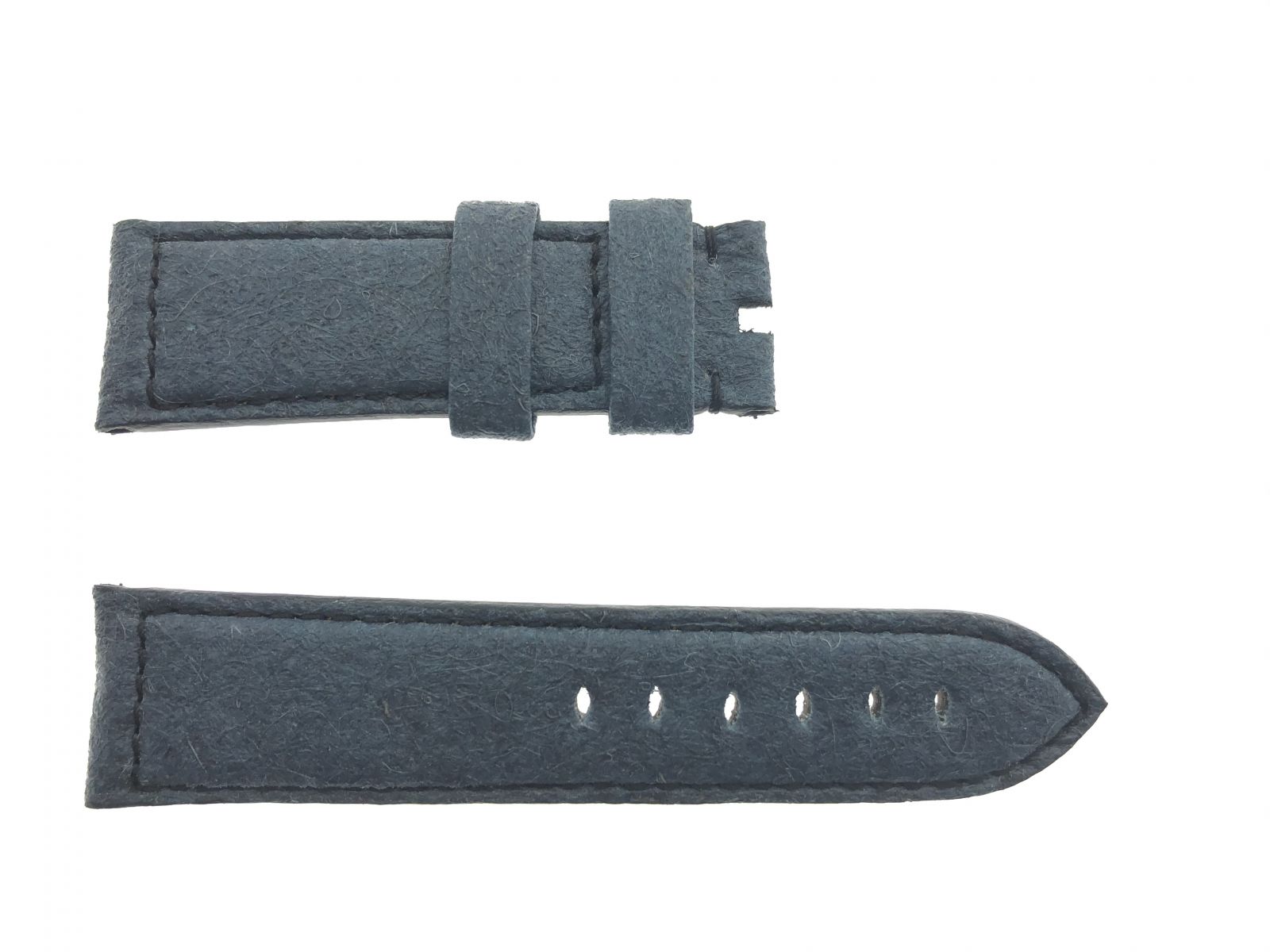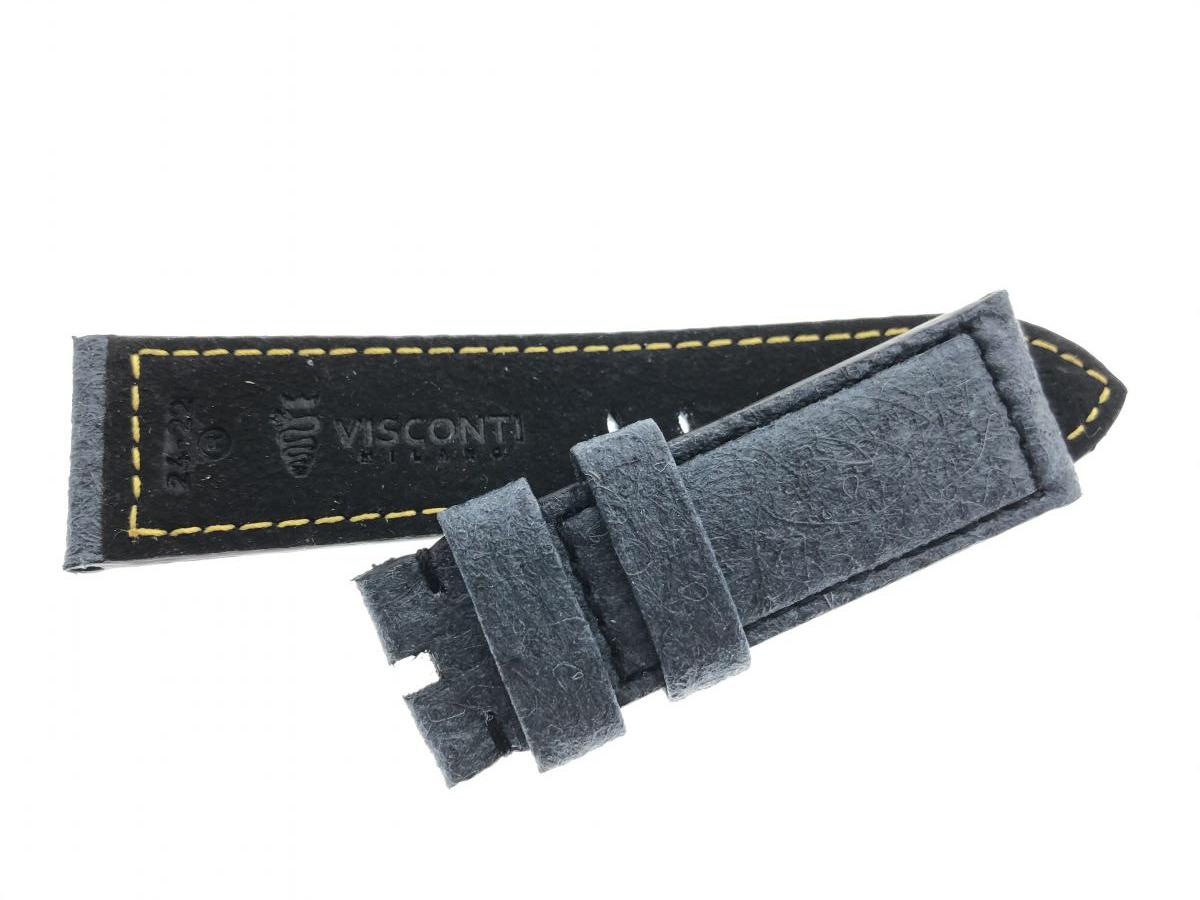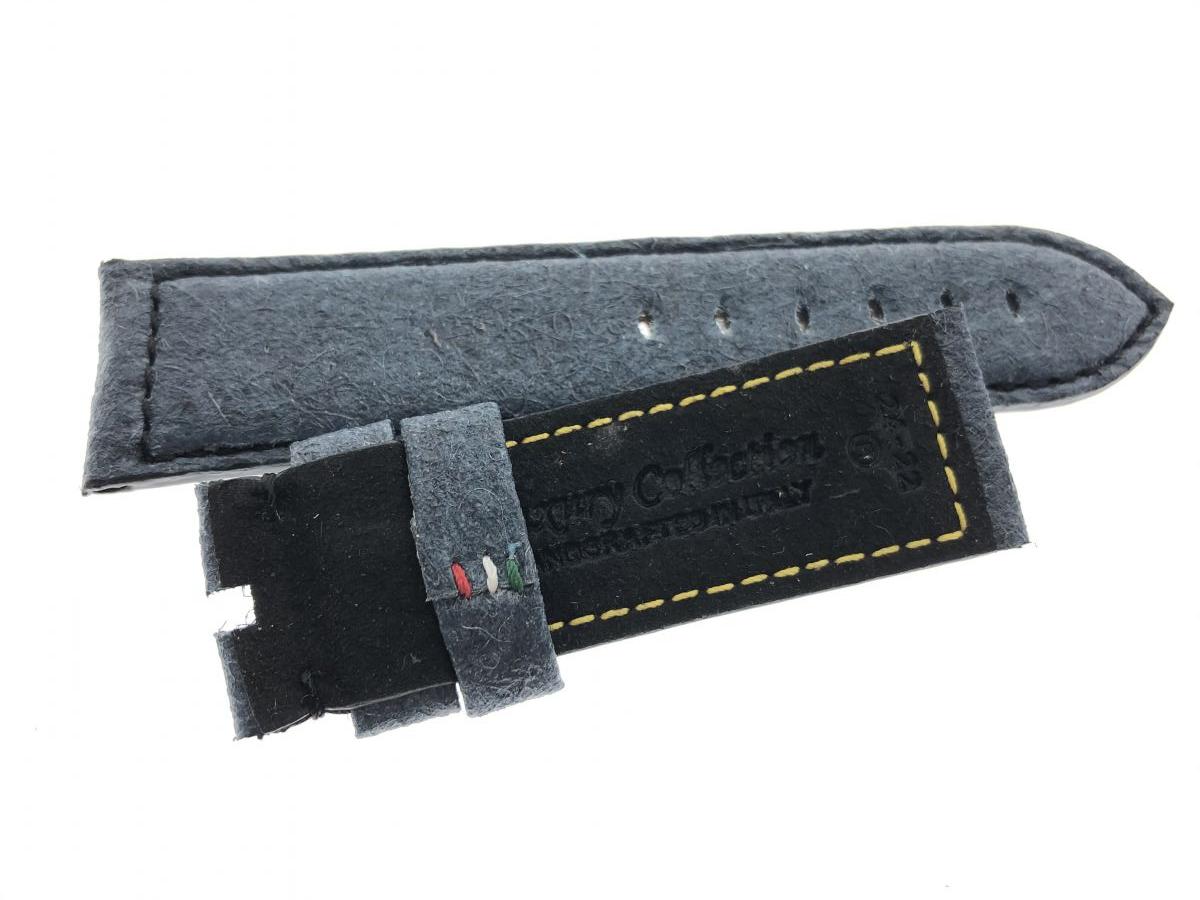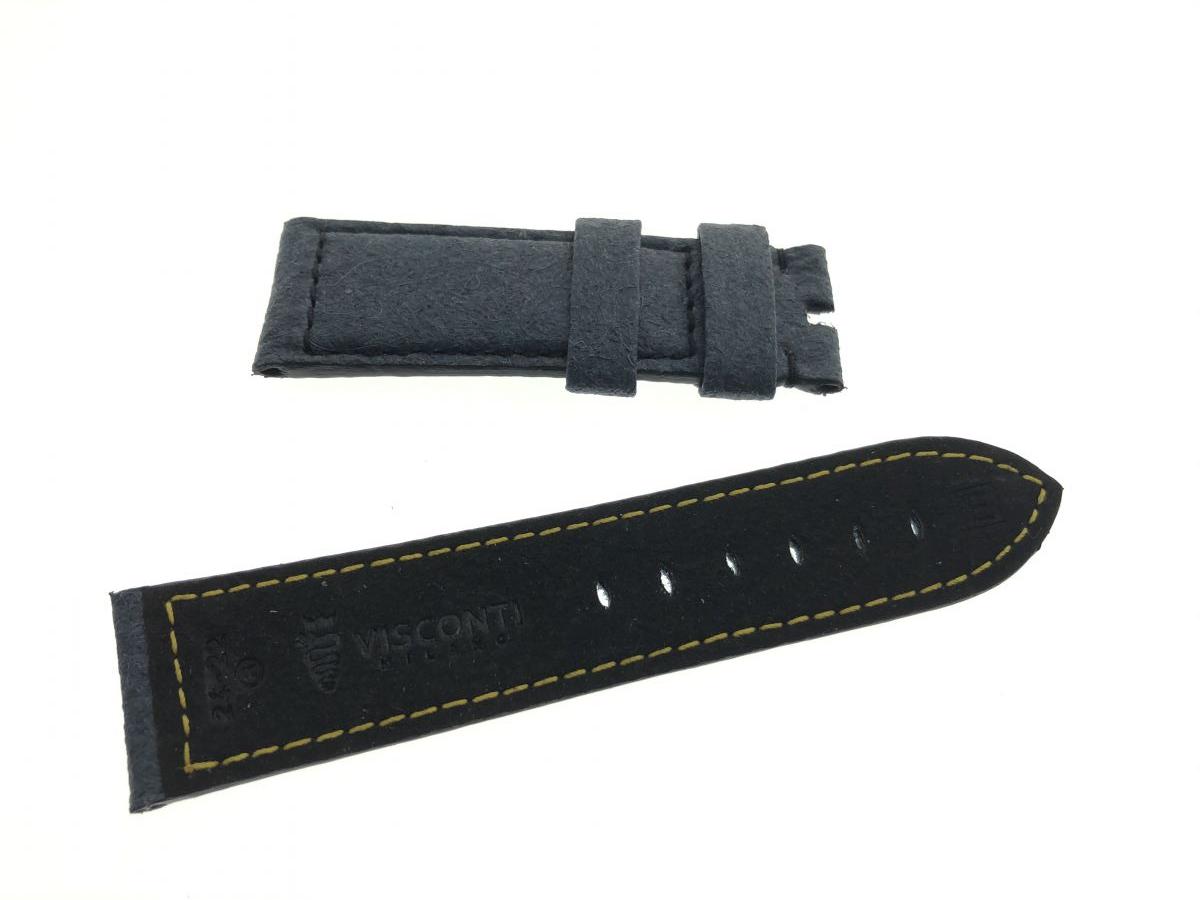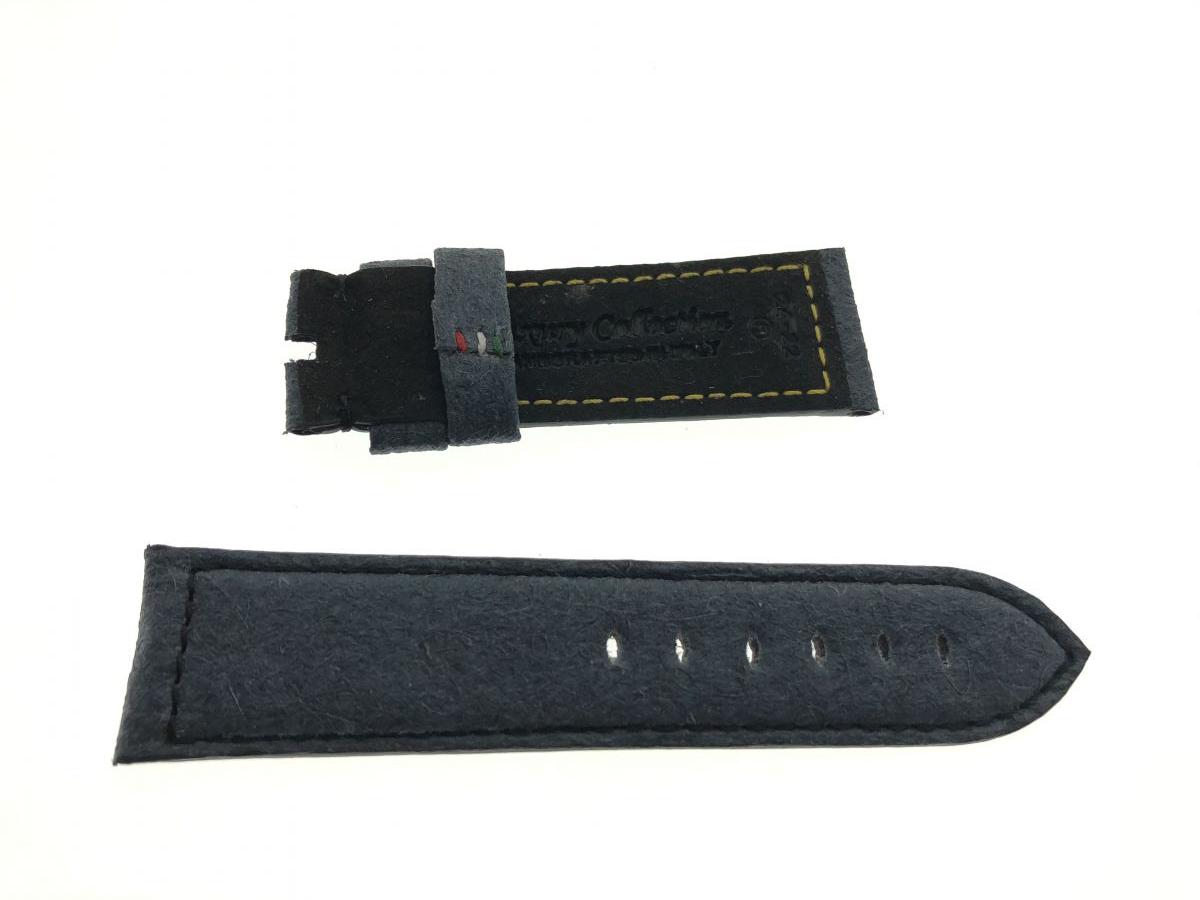 Panerai style band in Marina Blue Pinatex
Only 1 Left In Stock
The art of giving
Signature luxury packaging
Premium delivery
Enjoy complimentary shipping on most world destinations
Instructions to measurements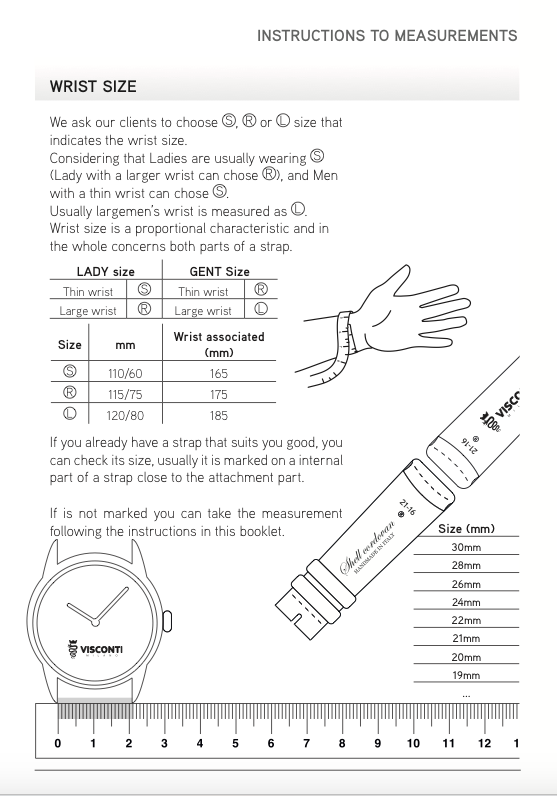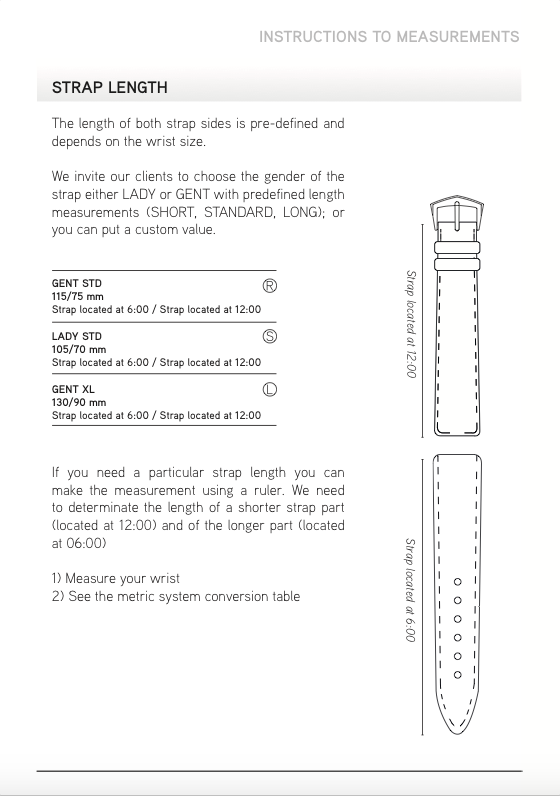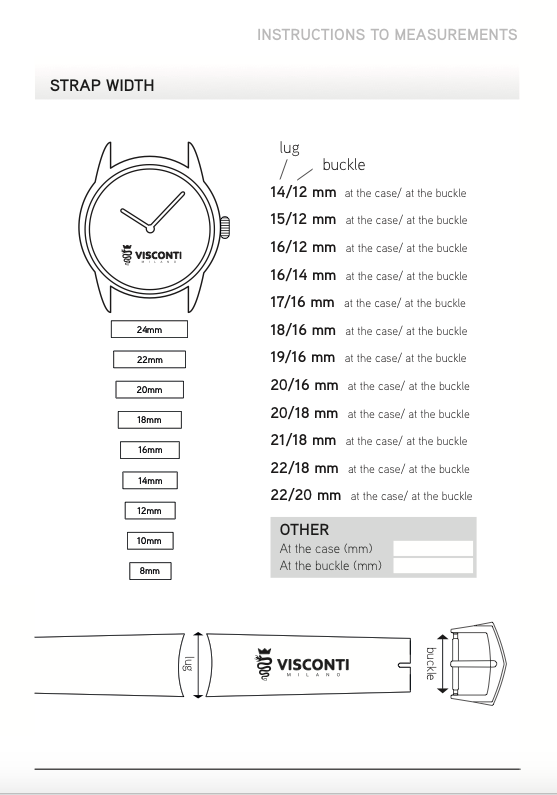 Are you looking for the same style strap but for another watch brand?
Do you need some different options?
Request Additional Information
This Replacement Band is Made from high quality Ananas fiber leather (Pinatex®) on top and accompanied with a lining in Black Original Italian Alcantara. This combination of materials makes the strap water resistant, will look very aesthetic on your wrist, as it's is very soft and practical. It is a perfect choice for the people that cares to source modern and sustainable products for daily use. Designed for Panerai style timepieces with lugs width 20mm, 22mm, 24mm, 26mm. Oval holes fare cut or Panerai style tang buckle supplied with large loops.
This is a great choice to customize your unique timepiece. Check the other colors available in our Pinatex® collection.
Details
Custom made watch band designed for Panerai style timepieces
Handcrafted in Italy by Italian Artisans.
Stitching: Regular side; color: Black
Oval holes for Panerai style pin buckle
Buckle is not included
Measurements
Width to lugs/buckle: on choice
Straps length: on choice
Band size: Unisex Regular, Unisex Small, Unisex Large
Composition and Care
Main material: Ananas fiber leather (Pinatex®); color: Marina Blue / Wriked
Lining: Original Italian Alcantara; color: Black
Shipping
FEDEX PRIORITY
SHIPPING WORLD WIDE
1-3* Business Days to Europe, USA
2-6* Business Days to Other Countries
*- AFTER DISPATCHING
Shipping worldwide.
See delivery terms and conditions
We ship with Fedex or DHL on most world destinations
Luxury packaging
SIGNATURE PACKAGING
Each product signed by Visconti Milano Straps is packaged in a refined paper box bearing the Visconti Milano logo.
Watch strap packaging can be used as one strap holder.
Our replacement watch bands are supplied by a special screw driver tool that will help with the strap installation on your timepiece.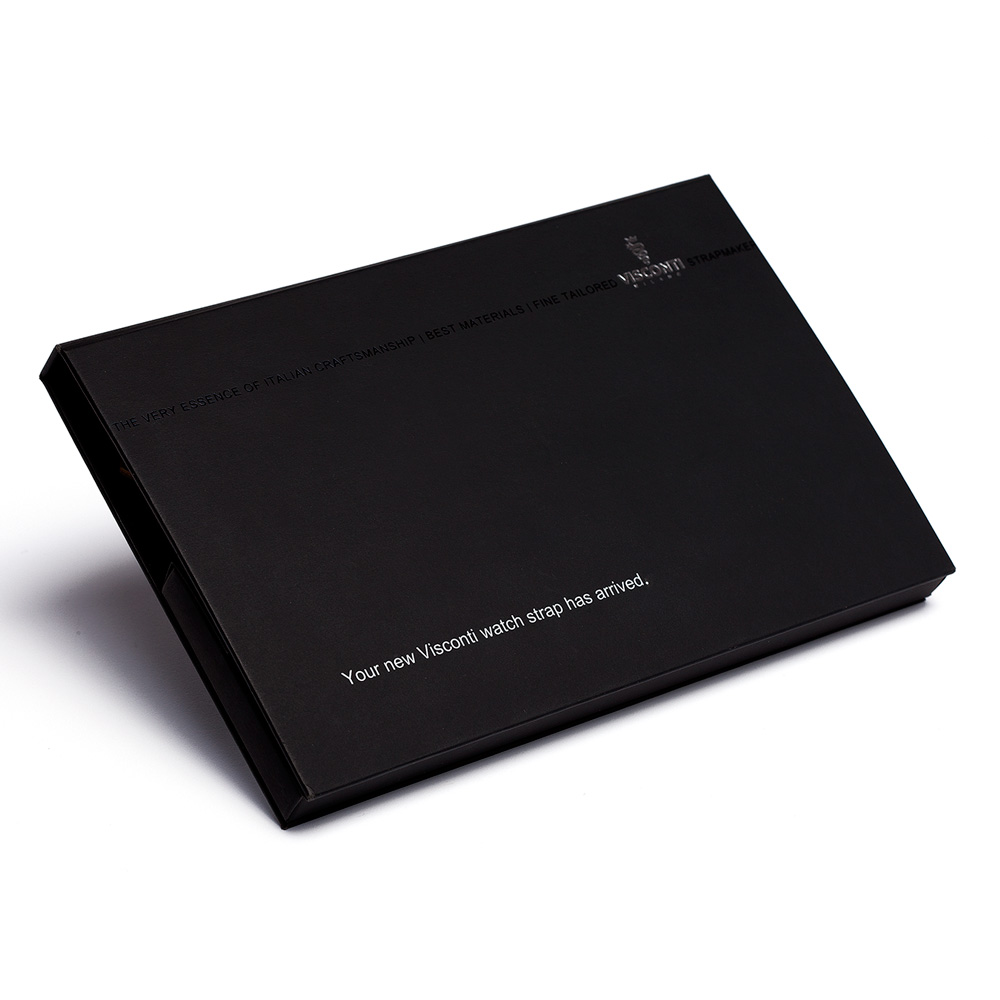 Pinatex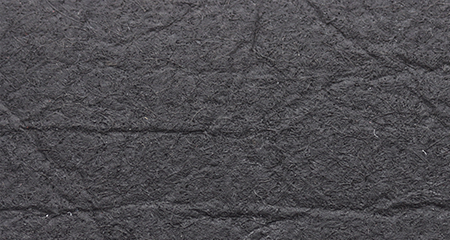 Pinatex or Ananas Fibers Leather is an alternative to leather and is made from fibers taken from the leaves of a pineapple. It is is biodegradable under controlled industry conditions. It is a suitable choice for creating a wristwatch strap because the fabric is soft, lightweight, and flexible. The straps made from Pinatex come in a different color, and all wristwatch straps look glamorous. Ananas Fiber Leather is water-resistant so are the straps.
read more
Bio-based Pineapple Fibers Leather, also called Pinatex, is vegan alternative to natural leather made from animal skin. It is made of the waste leaves of a pineapple. This material is used to make various products, including wallets, bags, wristwatch straps, shoes, jackets, coats, shirts, and many more things. It is a vegan material that is sustainably sourced and doesn't contain any chemicals which are harmful to humans. Pinatex is soft, flexible, strong, durable, lightweight, and it can be easily embroidered, stitched, and cut into various shapes. In fact it is more sustainable than genuine leather made from animal skin.
This leather is not only water-resistant and versatile but has also passed international standard tests of ISO about seam rupture, tear, and abrasion-resistant, tensile strength, and colorfastness. These luxurious-looking wristwatch straps are charming to the touch, with excellent protection from wrinkling and pilling. The leather also has resistance to mildew and moths. Pinatex leather shouldn't be exposed to direct sunlight or U.V. for longer because the U.V. radiation or rays from sunlight can make the leather lose its color. Pinatex leather has low elasticity, thermal stability, and heat resistance. The straps made from Pinatex are not only unique because of leather properties but are also aesthetic and elegant.
If the requested straps are not in stock: This Custom Made Product is already on the Way to Be Back in Stock or it will be Promptly Produced for you.
Usually, this process takes from 5 to 15 Business Days to Restock and Dispatch it.
We always do our best to provide the fastest orders processing.
- The preview in Strap Constructor is digitally approximative
- All the custom made (bespoke & made to measure) handcrafted products may have the variations in finishing and color shades
- Every piece of strap is unique
- Our custom made products are not a subject for return
bespoke & made-to-measure
This watch strap style is available for personalized order, created with Strap Constructor.
The Bespoke and Backordered Handmade Production takes from 5 to 20 business days. We can produce the strap with your custom measurements and personal initials on the inner part of lining.
Make a note to the order on checkout page with desired personalization (initials on inner part of strap lining).